Tax identity theft is on the rise. You can minimize your chances of being a victim by followingthese guidelines.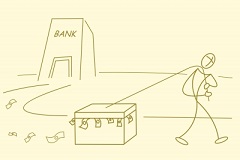 Don't you feel a little twinge of anxiety when you receive a letter in the U.S. mail from the Internal Revenue Service? Personal correspondence from the IRS is scary. Did you make a mistake on your return? Are you being audited?
There's another possible subject of your letter, one that more and more taxpayers are discovering every year. Did the IRS receive two tax returns that contained your Social Security number? Did the letter say that you had a balance due or a refund offset, or that collection proceedings had been started? Did it indicate that you were employed by a company you'd never heard of?