No one wants to lose money that can be either billed or claimed on a Schedule C. But it can be maddening to keep track of your receipts.
Whether you use an accounting application or you keep track of income and expenses manually, you probably have a pretty good system for tracking bills and other regular expenditures.
It's those miscellaneous receipts that can slip through the cracks sometimes. A couple of Uber rides. Lunch with a prospect at Starbucks. The printer ribbon you picked up at Staples. Copies and binders purchased at a FedEx Kinko's for a client's presentation. Whether you get your money back outright or claim these expenses on your Schedule C, you don't want to miss any of them.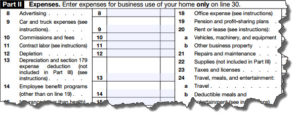 If you claim an expense on your IRS Schedule C, you're going to want to have matching documentation.
Do you use the "shoebox" method? It's not that uncommon. But do you document each receipt carefully before storing it? And how much time do you spend pulling these slips out, organizing them, and entering them in a spreadsheet when it's time?
There are better, more accurate solutions that can save time. One, appropriately enough, is called Shoeboxed, You can mail your paper receipts to the company, which then scans them and converts them into organized, categorized, IRS-accepted digital records. Or you can snap a photo with your smartphone and save the image. $9.95/month for up to 50 docs; $29.95/month for up to 150 (two users); and $49.95/month for up to 500 (three users). Top two tiers integrate with QuickBooks Online. 30-day free trial.
If you'd rather not invest in a new application and you're already using Evernote, you can take pictures of receipts with your smartphone and save them as Notes. Plans range from free to $120/user/year. The site doesn't read and enter your receipt data like Shoeboxed does, but you're free to organize it however you'd like.
There are also some free apps with more limited features that might serve you well. For example, Receipts can be used alone or with Evernote and Dropbox. You can enter receipt data manually or take a photo, then assign it to an account or category and write a note. Report filters provide graphical overviews of your expenses. A paid version ($9.99) adds more sophisticated features.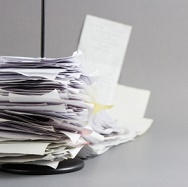 Employees who must submit expense reports have a lot of choices. You might consider Expensify, for one, which offers cloud-based, real-time expense reporting. Snap a photo of a receipt with your smartphone, and Expensify codes and enters your expense. Once a report is approved, the reimbursement funds can appear in the employee's bank account in as little as one day. It's a good solution for your accounting manager, too, since it supports automatic approvals based on company policies that you spell out, and integrates with leading accounting solutions.
We're not trying to sell you software here; we're not endorsing any of these products. And there are numerous others. As always, you should read user reviews and take advantage of free trials to evaluate the options for yourself. We'd be happy to meet with you and go over your overall accounting workflow, to see if we can suggest more effective ways to manage your company's income and expenses – including those pesky-but-important receipts.
Stock image courtesy of FreeDigitalPhotos.net